Description
NETBALL DRESS
Looking for a good value yet quality netball dress?  Then choose a Silver Fern Sport netball dress (or perhaps consider instead a Silver Fern Sport netball top and skirt).
A huge benefit of the plain, unprinted Silver Fern Sport netball dress range is that there are no minimum order requirements – great if you need a top up of just one or two later in the season.
(Or, if the budget allows we can supply sublimated netball dresses, tops, skirts and bibs. This is a fantastic way to really personalise your netball uniforms. Select from a range of designs and colours, or, design your own. Minimum order quantities apply. As the sublimated dresses are made to order, they take a few weeks to be manufactured.  Click here to find out more on the sublimated dresses.)
Uniform History
We've come such a long way since the days of the below knee woollen box pleat tunics, stiff cotton shirts and woollen stockings from the early years.  Over the decades which followed the uniform fabric became lighter and finer and the length shorter!  Polo tops and skirts replaced tunics and bibs were introduced.  Today netball dresses are the more popular choice with tops and skirts still having their place.  Present day players enjoy modern sporting fabric – so much more comfortable to wear.  How things have changed – for the better!
Silver Fern Sport Dress Sizes as below: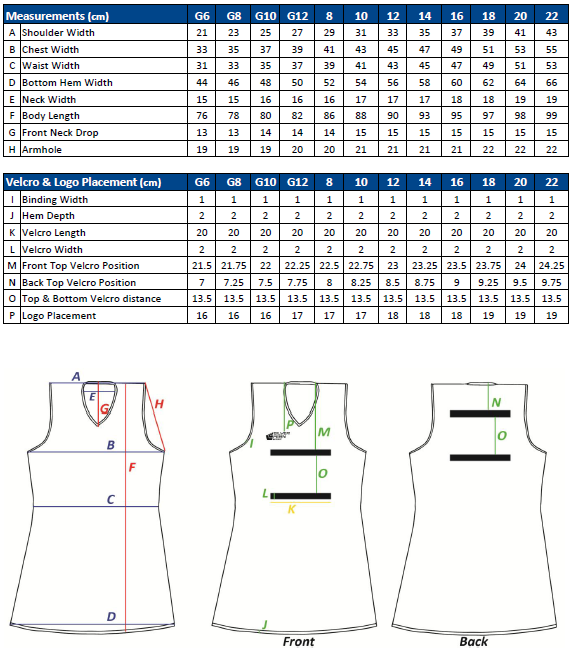 | | | |
| --- | --- | --- |
| Measurement | size 24 | size 26 |
| Shoulder width | 45 | 47 |
| Chest Width | 57 | 59 |
| Waist Width | 55 | 57 |
| Bottom of Hem Width | 68 | 70 |
| Neck Width | 19 | 19 |
| Body Length | 99 | 100 |
| Front neck drop | 15 | 15 |
| Arm hole | 23 | 23 |
****